Wow. I think I set a personal record for the longest title yet! And rightly so. If any, flavor-packed dish is deserving of a long, drawn out title, this delicious spaghetti is.
When I heard that the March cooking challenge would be spaghetti, I was delighted. Spaghetti, how I love thee...let me count the ways:
1) Plain and simple: easy, ground beef simmered in sauce out of a jar, over plain noodles.
2) Quick homemade sauce with Italian sausage, over whole wheat thin spaghetti or angel hair
3) Mom's recipe, chicken simmered in red sauce all day in the crock-pot, served over rotini.
4) Always, always!! With sour cream and shredded cheese. Yes. Ah, comfort food.
5) WITH THESE MEATBALLS- I mean, hey! They are stuffed with cheese for goodness' sake!! What more can you ask?? Bacon, you say? Bacon and cheese stuffed meatballs?? Hmm, that is an idea worth considering. Moving right along...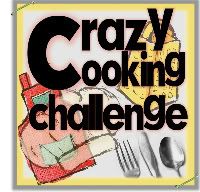 I can't even begin to tell you how much flavor is packed into these little round balls of meat. Also known as meatballs. When I stumbled upon this recipe on Lauren's Latest, I knew I had found my ultimate spaghetti. But, alas! There was no sauce recipe, so I searched the web for the perfect sauce to compliment such a magnificent concoction as cheese stuffed meatballs. Moist, flavorful, cheese stuffed meatballs. Chunky Marinara from For the Love of Food caught my attention. It is chock full of tomatoes and onions and is just perfect for a gal like me who doesn't like to drown her pasta in red sauce.
Now, normally incredible yummyness is accompanied by a heaping serving of guilt. HOWEVER...take a moment to calculate with me... Turkey meatballs + Vegetable-laden-sauce + Whole wheat spaghetti = Healthy! Yay! Devour the incredible yummyness and throw the guilt out the window!
Anyhow, long story short, I combined recipes from these two fantastic bloggers, and it magically transformed into one delicious meal.
Spaghetti with Mozzarella-Stuffed Turkey Meatballs and Chunky Marinara
combined and tweaked by Jenn
serves 4-6
whole wheat spaghetti noodles, or noodles of your choice
For meatballs:
1 slice white bread
1/4 cup milk
1 1/4 lb. ground turkey
1/2 cup finely diced onion
2 cloves garlic, minced
1 TB ketchup
1 egg
3/4 tsp salt
1/2 tsp ground black pepper
1/2 tsp dried basil
1/4 tsp dried oregano
1 tsp dried parsley
24 1/2 in. cubes mozzarella cheese
Preheat oven to 375. Grease or line baking sheet with parchment paper. Tear bread into chunks and place in large bowl. Pour milk over bread and let it soak while you chop onions and garlic. Add the remaining ingredients (except cheese) to the bread/milk mixture and mix thoroughly. Scoop mixture by the tablespoon into your hand and push one cube of cheese into the center. Press meat mixture around cheese to completely cover and place on baking sheet. Repeat until all meat mixture is used. You should have 24. Bake 20-23 min. or until meat is thoroughly cooked. Serve with marinara atop spaghetti.
For marinara:
1 med. yellow onion, diced
1 garlic clove, minced
1 can diced tomatoes
1 tsp dried Italian herbs
1 tsp dried basil
2 TB red wine vinegar
1 TB olive oil
salt and pepper to taste
Saute onions in olive oil about 5 min or until translucent. Add garlic and saute several minutes, until fragrant. Add the rest of the ingredients and simmer at least 5 min. Serve with spaghetti and meatballs.