When the Crazy Cooking Challenge for April was announced, I knew I didn't want to miss out!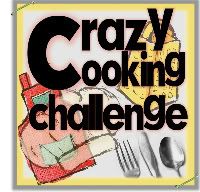 Who wants to miss out on an excuse to make some delicious blueberry muffins??!
I found these delicious-looking muffins on a blog called "If You Give a Girl a Cookie"- I love that she uses alternatives to plain white sugar. The original recipe uses honey and brown rice syrup. When I scoured the grocery store shelves, however, I couldn't locate the brown rice syrup, so I searched substitutes and decided to use maple syrup- it was delicious!
These beautiful muffins are moist and filled with plump, juicy berries and the not-too-sweet flavor of the muffin is perfectly complimented by the sweet crunchy topping.
Along with a smear of sweet butter, they are the perfect compliment to a cup of coffee in the morning, a welcome addition to a weekend breakfast, or a great on-the-go snack!
Blueberry-Honey Crumb Muffins
makes about 18 muffins
7 TB butter, softened
1/4 cup maple syrup, plus 1 TB water
1/3 cup plus 2 TB honey
2 eggs
2 1/4 cups flour
4 tsp baking powder
1 tsp sea salt
scant 1 cup whole milk
2 tsp vanilla
1 1/2 cups fresh or frozen blueberries
Crumbly Topping
4 TB flour
1 TB brown sugar
1 TB white sugar
1/2 tsp cinnamon
4 TB cold butter
Preheat oven to 350. Grease muffin tin or line with paper baking cups.
Beat butter, syrup, honey and eggs in mixing bowl until smooth. In two separate bowls, mix the dry ingredients in one and the milk and vanilla in the other. With the mixer on low speed, alternately add dry ingredients and milk to butter mixture until just combined.
With a rubber spatula, fold in blueberries. Scoop mixture into prepared muffins cups (an ice cream scoop works well), taking care not to fill beyond the rim, as they will rise considerably.
To make crumbly topping, stir together flour, sugars and cinnamon. Add butter and mix with your fingers or a pastry blender until mixture resembles small pebbles. Sprinkle each muffin top with about a tablespoon of crumbly topping.
Bake 20-25 min. or until tops are golden brown and a toothpick inserted in the center comes out with only a few moist crumbs stuck to it. Allow to cool 5 min. in pans before removing to a wire rack.
Serve with butter.