It's Crazy Cooking Challenge time again!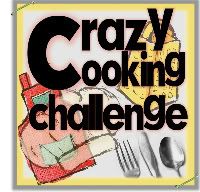 I was so excited to hear that this month's challenge is fruit smoothies! Hubby and I LOVE smoothies. 5+ years ago, my brother went through a smoothie "kick" and he sold me on it. I even went so far as to spend a lot of my hard earned bucks on a new quality machine. I think the bucks paid off, because the blender still stands (although, thanks to another brother, the stopper on the lid has been broken for about 3 years...still holding on with some massive amounts of masking tape)! And more importantly, it still blends. Delicious concoctions- with smoothies, the sky is the limit!
Strawberry banana is a reigning favorite, as well as mixed berry (usually strawberries, raspberries and blueberries) and peach-strawberry. I have also sampled the green variety, throwing handfuls of fresh spinach into the mix (which, amazingly, you can't even taste!). Also on the sampled list are oatmeal smoothies and ones with flax seed included (didn't really care for the flavor or texture on that one). We generally like our smoothies creamy, so in addition to the fruit (always frozen so we don't have to water it down with ice!), and fruit juice we usually toss in some milk and/or yogurt.
This particular smoothie was chosen as a candidate because of it's use of mango. I love mango, and as Providence would decree, Travis brought me home a whole box of mangos from our Food Bank's surplus yesterday! I knew then and there it would be mango. So chopped and froze some that were ripening fast and today I tried this promising recipe from The Fusion Chronicles. Her recipe is a sort of copycat for the McDonald's mango pineapple smoothie and it is spot on! If you've ever had one from McDonald's, I can promise you, this is better! It is creamy, sweet and tangy and the consistency is perfect. The flavor of a mango is hard to describe, but I always come up with "bright" (if bright is a flavor!).
makes one (about 12 oz?)
1 cup chopped frozen mango (if using fresh mango, add a few ice cubes)
1/4 cup pineapple juice
1/4 cup orange juice
1 container (6 oz) fruit flavored yogurt (pina colada recommended- I used vanilla)
2 TB sweetened condensed milk
Put all ingredients in blender and blend until smooth. Enjoy!