It's Crazy Cooking Challenge time again! When I saw that this months challenge was the ultimate chocolate cake, my heart sunk. I LOVE chocolate cake, don't get me wrong. But I've been on sort of a diet, so I knew making chocolate cake for just the two of us to eat was not going to happen. But thankfully, I found a way I could participate and make a delicious cake...and not eat the whole thing myself. Keep reading... :)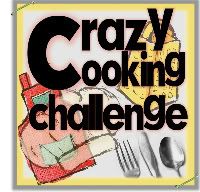 I come from a large family. Thus, we eat food in large quantities. Thus, my mom had some pretty good "feed a crowd" recipes...especially for company. This cake definitely feeds a crowd, and is a perfect pleaser whether being served at a birthday party, a company dinner, or a church potluck. This particular recipe comes courtesy of a blog called "A Southern Fairytale", but it is very similar to the one my mom and I often made together. It has a cake brownie-like consistency and is moist and fudgy on top, not overly rich, with just a hint of cinnamon. It's also easy to whip up- which makes it the perfect last minute dessert for unexpected visitors. I slightly altered Southern Fairytale's recipe, leaving out the nuts in the frosting (I don't remember ever eating it with nuts) and upping the chocolate by a tablespoon. It turned out absolutely delicious!
I made this special cake for a bittersweet occasion. A wonderful family in our church is moving away, and as a farewell treat, I served up Texas Sheet Cake after church on their last Sunday with us. We have a small congregation, so this large, thin cake was the perfect size to feed everyone. When I had served the last person, only one piece remained. I turned to see several teenage boys eyeing it hungrily. I stepped out of the way and said, "Have at it!" and they did...I looked back to see them even scraping the pan to lick up the last of the frosting clinging to the sides!
Start by mixing the dry ingredients (flour, sugar, salt) together.
Meanwhile, heat margarine, cocoa powder and water until the margarine melts and the mixture is boiling.
Pour it over the flour mixture; add eggs, soda, buttermilk, cinnamon and vanilla and stir till well blended.
Pour into a greased high-sided baking sheet or jelly roll pan and bake!
When the cake is near to being done, get to work on the frosting! The most important thing about making this cake is to pour the frosting over the cake while it is still hot, just out of the oven. I know that is usually verboten in cake-making and frosting, but this is a must! It causes the frosting to seep into the cake, creating a fudgy layer on top that is essential. And delicious. So, heat more margarine, cocoa and milk. Add powdered sugar, cinnamon and vanilla and stir till smooth. The only way I have found to minimize lumps in this frosting is to mix rapidly with an electric mixture. It doesn't get all the lumps, but it helps. Pour the frosting directly over the warm cake and smooth it out.
When the cake is cool, slice and serve. You can cut it into as few as 16 or as many as 24 pieces, depending on the size of your crowd and the size of their appetites! My mom's original recipe states that the cake will stay moist up to a week...if it lasts that long! It usually doesn't.
I don't usually decorate this cake, but for this special occasion, I did.
I apologize, I wasn't able to get a good photo of a slice of the cake so you can see that delicious fudgy layer, but trust me, it's there!
Whip this up for your next gathering of at least 16 people (unless you want to be eating cake for the next week!) and I guarantee they will love you. And then you won't be able to get rid of them. But...that's your problem. :)
adapted from A Southern Fairytale
serves 16-24, depending on size of slices
2 scant cups of flour
2 cups sugar
1/2 tsp salt
2 sticks (1 cup) margarine
1 cup water
4 TB cocoa powder
2 eggs
1 tsp baking soda
1/2 cup buttermilk
1 tsp vanilla
1 tsp cinnamon
Frosting:
1 stick margarine
3 TB cocoa powder
6 TB milk
1 box powdered sugar (hard to find boxes anymore...it's about 4 cups)
1 tsp vanilla
1/2 tsp cinnamon
Preheat oven to 350.
Stir together flour, sugar and salt.
Heat margarine, cocoa and water over medium until boiling. Pour over flour mixture.
Stir in eggs, baking soda, buttermilk, vanilla and cinnamon until well blended.
Pour into greased high-sided cookie sheet or jelly roll pan.
Bake 18 min.
Meanwhile, prepare frosting. Heat margarine, cocoa and milk. Stir in powdered sugar, vanilla and cinnamon until smooth. Pour over cake while still warm.
Cool, slice, serve, and be adored!